+40 NATIONS EXPLORE THE FACTORY OF TOMORROW

WKO AUSSENWIRTSCHAFT AUSTRIA / ADVANTAGE AUSTRIA and its partner Enterprise European Network are pleased to invite you to this international event.
The 2-DAY INTERNATIONAL CONFERENCE takes place on March 11 – 12, 2021. The main focus of this year's conference is The Factory of Tomorrow.  
Due to COVID-19 this will be a VIRTUAL event!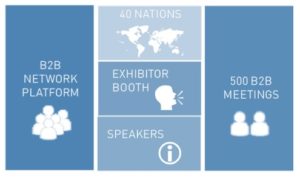 The basic VISITOR package is free of charge.

The PREMIUM Visitor package costs EUR 300 excl. VAT
This is an extra service for Austrian companies. Why book this package? Our Event Support Team will take over technical matching and scheduling issues for you and assist by telephone in case of registration problems.

For more information on ticket and prices, click here.
SCALE YOUR BUSINESS OPPORTUNITIES at this event!
WHAT DOES THE EVENT OFFER YOU?
Access to top-class presentations (available after the event for registered participants)
Access to top-class speakers through a B2B network platform.
Access to the integrated B2b network platform and online marketplace. This intelligent B2B application helps you find and match with international business partners. Attend this unique event and explore new business opportunities in more than 40 countries.
Book 1:1 video conference meetings with potential project partners, customers, general contractors, government ministries and more.
Book an exhibitor booth: Benefit from higher visibility and promotion on this platform. Make use of the opportunities provided to exhibitors to give presentations!